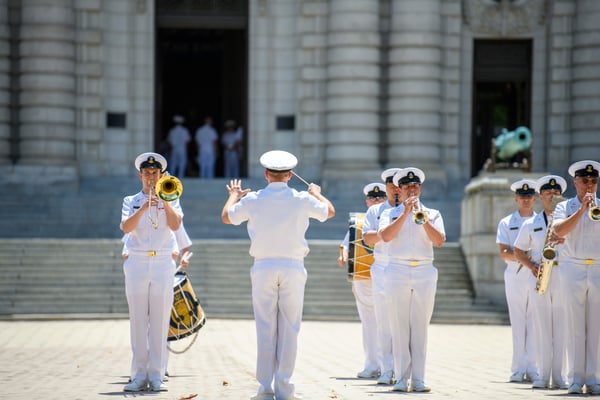 Military bands have long been used as a means of communication on the battlefield. The first documented evidence is found in Sun Tzu's The Art of War from 2,500 years ago when drums and gongs were used to broadcast orders to troops.
American military bands were originally inspired by British traditions. Following the Revolutionary War, field musicians playing on drums, fifes, and bugles more closely aligned their military marches with the fast tempo of the French forces rather than the slower pace typically representative of the British. While military bands are no longer needed to transmit troop movement orders on the battlefield, the custom of military songs and marches remains an enduring representation of military culture.
Today, the Armed Forces Salute is a series of service-specific songs performed to inspire a sense of patriotism and honor the brave men and women of the United States Armed Forces. The anthem of the United States Navy, Anchors Aweigh, is also the US Naval Academy fight song. Instantly recognizable from the first few notes, Anchors Aweigh's roots lie deep within the Academy's hallowed halls.
Son of Charles Z. Zimmermann, a Naval Academy bandsman during the Civil War, Charles A. Zimmermann began his tenure as Naval Academy Band bandmaster in 1887 at the age of 26, the youngest to lead the USNA band. Also enjoying work as a composer, Zimmermann would compose a new march each year, dedicating it to the graduating class.
Approaching Zimmermann with a request for a specific style of march, Alfred H. Miles, from the class of 1907, stated his class was "eager to have a piece of music that would be inspiring, one with a swing to it so that it could be used as a football marching song, and one that would live forever." The two are said to have collaborated at the chapel organ, with Zimmermann composing the music and Miles working to draft a title and two stanzas of lyrics.
The title Miles settled on for the march seems particularly fitting for a dedication to the graduating class of 1907. Anchors Aweigh was inspired by the phrase used to indicate that a ship's anchors had successfully cleared the sea bottom. Without anchors holding it in place, the vessel was now prepared for departure. For a class of midshipmen who had finally completed their studies and were about to embark on their Naval careers, it made a lasting impression upon these, and all future, departing graduates.
Originally consisting of Miles' two stanzas, the beloved march has evolved with time. A third stanza was added by Royal Lovell and other verses revised by George D Lottman, both from the class of 1926. However, the version of Anchors Aweigh we know today was revised in 1997 by the Master Chief Petty Officer of the Navy (MCPON) John Hagen, USN (Ret) to be inclusive of all naval personnel.
Zimmerman continued to serve as the Naval Academy Band Director until 1916 when he fell ill and subsequently died of a brain hemorrhage at the age of 54. Affectionately known as "Zimmy", Second Lieutenant Zimmermann was buried with full military honors at St. Mary's Cemetery. So beloved by his midshipmen, Zimmermann's remains were later exhumed and interned in the cemetery at the Naval Academy beneath a granite monument gifted to him from the classes of 1916 and 1917. Inscribed at its base, it states, "Erected by his Midshipmen friends".
Following his time at the Academy, Alfred H. Miles went on to have a long and distinguished career in the Navy as a Surface Warfare Officer (SWO). Miles' Commanding Officer positions included Naval Station Guantanamo Bay and Naval Amphibious Base Little Creek before he retired with the rank of Captain.
Anchors Aweigh's cheerful and energetic melody has resonated with others worldwide. It has been adopted by other nation's navies. For the midshipmen of the United States Naval Academy, it lives in their hearts as the school fight song. To continue your learning on this topic visit the USNA Band Webpage below.