Aug 17, 03:57 PM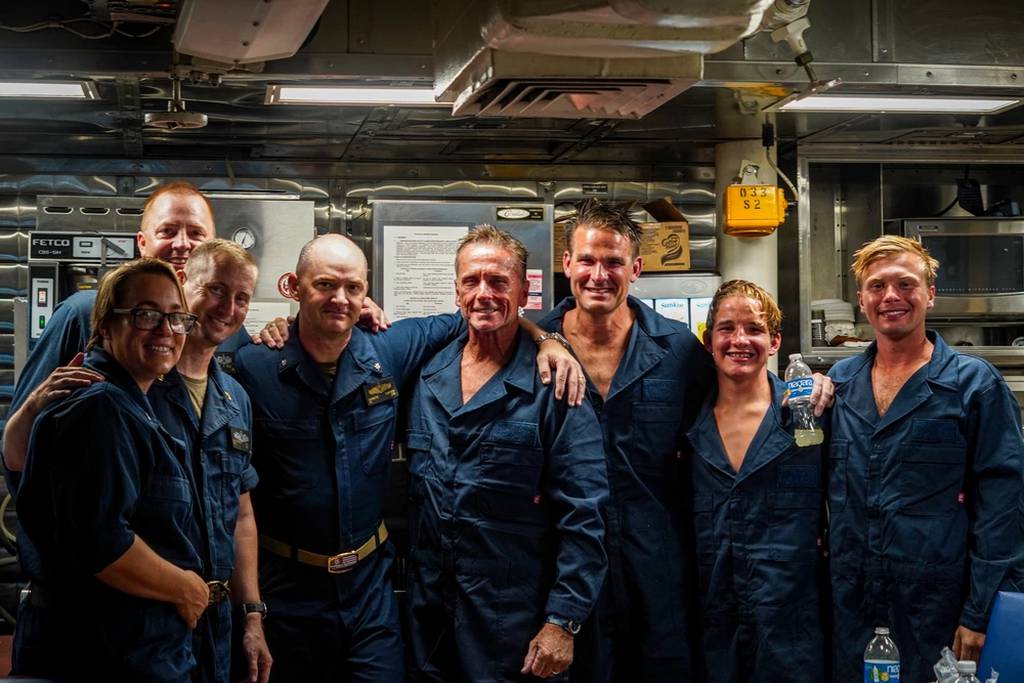 Sailors assigned to guided-missile destroyer Porter pose with Ben Wiggins, Daniel Williams, Evan Williams, and Luke Lodge after rescuing the divers at sea off the coast of Wilmington, N.C. (Interior Communications Electrician 3rd Class Hailey Servedio/Navy)
Sailors from the guided-missile destroyer Porter, alongside U.S. Coast Guard counterparts, saved four divers stranded off the coast of North Carolina this month.
The Porter, which is based out of Norfolk, Virginia, received a request from a Coast Guard HC-130 Hercules aircraft early Monday morning to aid in the rescue just 40 nautical miles southeast of Wilmington in North Carolina.
Coast Guard Sector North Carolina originally launched a search and rescue mission after receiving a report from Coast Guard Sector Charleston about the divers' condition.
Once on the scene, sailors from the Porter hauled the divers from a life raft the Coast Guard distributed to the destroyer via a rigid hull inflatable boat.
Crew then administered a basic medical evaluation and a meal to the divers once on board. A small boat from the Coast Guard carried them to shore, and they subsequently joined their families at Coast Guard Station Oak Island.
The Porter conducted the rescue amid its participation in the Navy and Marine Corps' second iteration of Large Scale Exercise, a global drill aimed at synchronizing global operations.
"As professional mariners, U.S. Navy Sailors have a responsibility to aid people who need assistance at sea," Vice Adm. Daniel Dwyer, commander of U.S. 2nd Fleet, said in a Navy news release.
"The fact that Porter was able to conduct this rescue while actively participating in one of the biggest global naval exercises of the year is a testament to the crew's flexibility and readiness to operate across a spectrum of operational tasks they may be called to do in the future," Dwyer said. "They are capable of saving those in need while defending the homeland … they are ready to fight tonight."
Large Scale Exercise, which is held from Aug. 9 to 18, involves more than 25,000 personnel around the globe. The drill aims to assess and refine concepts like distributed maritime operations to improve warfighting effectiveness against strategic competitors, according to Navy leaders.
Participating in the exercise are U.S. Fleet Forces Command, U.S. Pacific Fleet, U.S. Naval Forces Europe-Africa Command, Marine Forces Command, U.S. Marine Corps Forces Europe and Africa, and U.S. Marine Corps Forces Pacific.