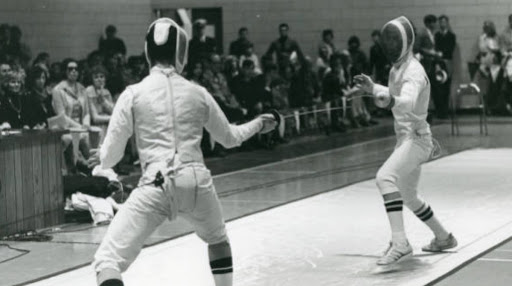 One of only four varsity sports offered at the Naval Academy at the turn of the century (along with baseball, crew and football), fencing has been an integral part of the Naval Academy sport story since 1896.
It also has a deep history of great success here, no doubt related to the sport itself, which epitomizes the finesse and discipline required for the entire midshipmen experience. To date, the co-ed Navy fencing team has produced sixteen Olympians, winning an impressive five bronze medals. Fencers from the Academy have been on the Pan-American and NCAA All-American teams, and have qualified for the esteemed titles of U.S. National Champion, NCAA or AIAW Individual Champion, and Eastern Collegiate or National Regional Champion. Of the club sports, USNA fencing is a standout.
USNA Fencing Club: A Storied History
The Naval Academy fencing team was an early entrant in the IFA (Intercollegiate Fencing Association). Since that time, the men captured three NCAA National Championships (1950, 1959, 1962) and the women won the USACFC National Championship in 2014. It's not surprising that 57 fencers (from 1917 through 1994) have made their way into the U.S. Naval Academy Athletic Hall of Fame.
Throughout this record-making span, there have been several coaches of note, including Theodore Roosevelt's own fencing coach, Francois Darrieulat, as well as three generations of the talented Deladrier family from Belgium. Andre Deladrier, the first native-born coach of a U.S. Olympic fencing team, coached the team at the 1960 Olympics in Rome—in front of a crowd of 80-90,000 people!
Current Head Coach Captain Emil Petruncio fenced for Navy with the class of '85. In 2005, he began a twelve-year assignment as a Permanent Military Professor in the USNA Oceanography Department. Now sixteen years into it, his passion for Navy fencing still burns strong. "I want the midshipmen to have an opportunity to experience the thrill of victory and agony of defeat, and to grow as fencers the way I did—because those memories have stuck with me for my career and I know it will help them become successful officers."
Praising the leadership within the team, Coach Petruncio stated that "I like to see the fencers coaching and encouraging each other, which is necessary for a club team to succeed." In fact, the "teach the teacher" approach is an important component of the team's strategy. Each year, Maestro Edwin "Buzz" Hurst from Navy's 1962 NCAA Championship Team (and owner of the Cabrillo Academy of the Sword in San Diego) administers clinics that the midshipmen then use to help increase and hone their skills throughout the season.
Current Standings
Led by Team President, Midshipman First Class James Henderson, the team currently competes in both intercollegiate regional and national tournaments, as well as U.S. Fencing Association open tournaments. They field a full men's and women's team in all three weapons: epee, foil and saber. Their season stretches from September through mid-April, with championships taking place in the spring.
COVID curtailed their most recent season, but the last full season in 2018-19 saw Navy on the upswing. They took their third consecutive Baltimore-Washington Conference championship and notched three individual champions in that conference—James Henderson in men's saber, Caroline Finley in women's epee and Andrew Klassen in men's epee. At the USACFC National Championships that year, the men's saber squad placed 1st, the women's saber squad placed 2nd and the combined men's and women's team finished 2nd, succeeding in their best finish to date at Nationals.
Even during COVID, the team picked up another Baltimore-Washington Conference championship, and the men's saber team placed 3rd at the Mid-Atlantic Collegiate Fencing Association (MACFA) championships—their best showing yet. No national championships were held in 2020.
Sometimes the best rewards aren't written in the stats, though. Right before leaving for nationals in 2018, the team had the honor of meeting with ADM Harry Harris Jr. from the class of '78. He was then serving as Commander of the U.S. Pacific Command, and he took the time to talk with them. He gave each fencer his personal coin for inspiration.
Captain Petruncio fondly recalls this and other incredible moments, including several national championship wins, "Joel Katz was a three-time national champ in individual epee (2006, '07 and '08), our combined women's team won the national championship in 2014, and our women's saber squad, led by Naomi Ngalle, won the national championship in 2015 and 2016. Naomi was also the national silver medalist both years, and the National Intercollegiate Women's Fencing Association individual saber champion in 2016. Our men's saber team were national champions in 2019." And, Coach Petruncio adds pointedly, "Every win over Army is a memorable win."
A Conversation Among Generations: The Alumni Meet
One of the most meaningful competitions is the annual alumni versus midshipmen fencing meet, typically held in mid-winter. This event has been a highlight of the season for approximately 40 years (on and off). More than the competition itself (which is fierce), the opportunity for current midshipmen to hone their wits and skills, and for the alumni to engage with these classes, is an invaluable piece of the Alumni Meet.
"It is exciting because we get to fence some of the greatest names that have come from this school, and it is a chance for the alumni to come back and relive that legacy that they started for us," said Midshipman First Class Naomi Ngalle, who was Navy Fencing Team club president in 2016. She continued, "This is really a privilege to have them come here and compete with us, and at the same time, teach us and help us grow as Navy fencers." The term "conversation" in fencing refers to a series of blade moves resulting in a point. But the term carries more significance here, as midshipmen and alumni parry together.
Admiral Harry Harris, Jr. was a varsity saber fencer from 1976-1978. When he attended the alumni meet in 2016, he noted how critical fencing was to his long career, "Fencing instilled in me a sense of focused aggression, not just individually, but as part of a team, something that has been valuable to me throughout my career." Coach Petruncio, who still fences (as long as his back holds out) agrees that these lessons translate to a successful career in military leadership, "Honorable conduct and quick decision making in the heat of battle is what our program is all about." There is a direct correlation.
One of three USNA Athletic Hall of Fame fencers present at the 2016 alumni match, 1967 USNA grad Frank Hewitt, was still actively competing at the time of the match. He remarked, "Team sports like this help midshipmen when they go into the fleet. They can also carry this over to the civilian world when they are done…. I compete in national fencing competitions even at the age of 70."
Fencing is indeed a lifelong sport.
Lunge and Parry Forever
Even though last year's season was shortened, it still ranked high in terms of excitement. The team traveled to the first Army-Navy-Air Force meet, hosted by Army on May 1, 2021. The Navy men's team beat Army, and several Navy fencers logged wins against the highly competitive varsity squad from Air Force. In April, Navy will host the second Army-Navy-Air Force meet here, so don't miss it!
As proud supporters of the Navy fencing team, NABSD encourages you to catch the bouts on the fencing strip. When you go, you can also support the team with our official Navy fencing gear from Navyonline.com. In its 125+ year history, fencing has touched the lives of so many midshipmen. Come and be a part of this incredible conversation!
Topics: Midshipmen

Written by Bill the Goat