By KATHERINE FOMINYKHCAPITAL GAZETTE |DEC 11, 2020 AT 2:53 PM
Army Navy Ball Run
The Midshipmen, along with the USNA Commandant, Captain William D. Bryne Jr., right, poses for a group photo. The United States Naval Academy's 13th Company sets out, from Bancroft Hall Friday, on a 135 mile run, to Philadelphia, carrying the Army-Navy game Ball. (By Paul W. Gillespie, Staff/Capital Gazette)1 / 36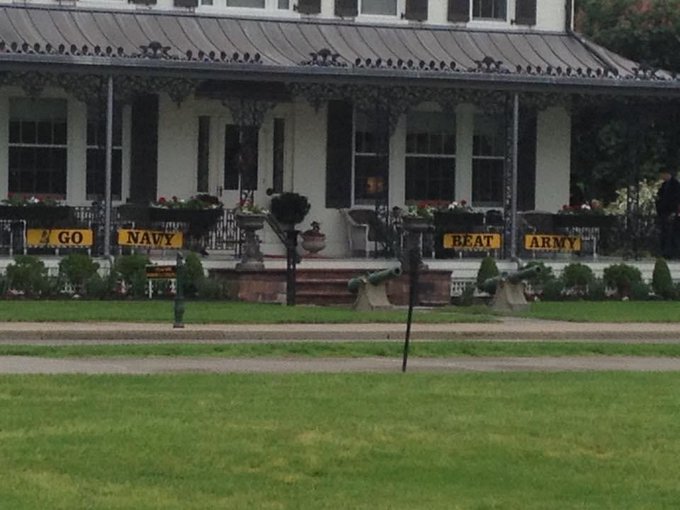 Mystery shrouded a set of "Go Navy, Beat Army" banners strung up on Army superintendent Darryl A. Williams' quarters Tuesday, days before the 121st Army-Navy football game today at West Point.
The prank couldn't have been carried out by exchange students, a handful of Naval Academy midshipmen swapped with West Point cadets each semester, as that tradition didn't happen this fall amid the pandemic.ADVERTISING
Typically, around Army-Navy week, Naval Academy plebes commit their class prank. Senior cornerback Cameron Kinley said Monday he heard the plebes got the "green light."
Naval Academy spokesperson Jenny Erickson couldn't confirm this was a plebe act and doubted the possibility, given restrictions around plebe movement and the distance of Annapolis to upstate New York.
"They typically do crazy stuff. My plebe year, somebody put a sailboat in the lunchroom," Kinley said. "You can't put anything past them. They surprise you every year."https://platform.twitter.com/embed/index.html?creatorScreenName=capgaznews&dnt=false&embedId=twitter-widget-0&frame=false&hideCard=false&hideThread=false&id=1336081967444422656&lang=en&origin=https%3A%2F%2Fwww.capitalgazette.com%2Fsports%2Fnavy%2Fac-cs-army-navy-game-traditions-football-20201211-h3vlaf5frjexdg5qfs2xuxcgpa-story.html&siteScreenName=capgaznews&theme=light&widgetsVersion=ed20a2b%3A1601588405575&width=550px
Pranks are just one aspect to the lead-in of the Army-Navy each year. In year's past, they've included stealing one another's animal mascots, though those actions were outlawed years ago by the service academies, including Air Force, for the well-being of the animals.
While many traditions have been canceled or modified, some have survived.
Because there were no exchange students this fall, there will be no "prisoner exchange" before the game. Likewise, there will be no pep rally at the Naval Academy to send off the football team, the usual frenzy of joy fueled by school spirit and the tail end of finals.
"The atmosphere's still here. Everybody's still excited here around campus," Kinley said. "Everybody's saying 'Beat 'em when you see 'em.' "
The annual "ball run" adapted to the current climate. Rather than having midshipmen relay the ball over 143 miles to the game site — which was supposed to be Philadelphis — the 13th company ran 140 miles around Naval Academy grounds on Friday. The Army Marathon Team did the same at the United States Military Academy at West Point, and the two will band together, socially distanced, to finish out the last three miles today.
Rather than actually running in the game ball, they will present a symbolic one before the game.
The Golden Knights and Leap Frogs will parachute to the field just before 3 p.m. kickoff, weather permitting. Both schools' flyovers, absent from home games this year, will grace the skies afterward. The Patriot Games and National Anthem sung by the schools' glee clubs and the color guard presentation will both be altered to fit coronavirus procedures. All participants will be tested for COVID-19.
Usually, the Brigade of Midshipmen and Corps of Cadets march on together before the game, filling the field with a sea of gray coats and white uniforms.
Although neither academy had any march-ons for any games this fall, they will on today. The cadets will march first at 12:10 p.m., followed by the midshipmen at 12:40 p.m.
"It will be a little different than usual," Erickson said.
Traveling to the game was considered a "bubble to bubble" effort, the Naval Academy said in a statement released Friday, as the midshipmen will travel with strict coronavirus protocols in place, such as testing, contact tracing and movement restriction.
The two groups of students usually crowd separate portions of the stadium, roaring school chants in an effort to one-up the other. Without fans to populate the other seats this year, the cadets and midshipmen will be seated by school, physically distanced and masked.
President Donald Trump will attend this year's game, the third time in a row and final time he will attend the game during his four-year term. It's not clear whether he will keep up the presidential traditions, such as the coin flip and sitting with each student section at different halves.
Filming the famous "spirit spots" also survived the pandemic. Lt. Rylan Tuohy is responsible for multiple legendary spots, such as "We Give a Ship," and directed this year's videos. The 2012 graduate, now with the Amphibious Construction Battalion 1 in San Diego and a civil engineer corps officer, said the videos, meant to inspire the Navy side before and during the game, took on a more creative spin this year.https://www.youtube.com/embed/Yo_uRlK-3z4
"I think it was more of a challenge for us to figure out how we wanted to do it," he said. "We are accustomed to now seeing everyone in masks and socially distanced. For us, we wanted to create something where people could watch the video and it could almost be old times — with the twist of the safety protocols."
The video specifies it was created in compliance with COVID-19 protocols. Naturally, Tuohy's spot this year was titled "Beat Army: A 'Viral' Video."
"That was another item on the shelf, as a team, you always had to think about while also thinking about the script, the shot and everything that goes into making a spirit video," Tuohy said. "Needless to say, we definitely sighed a little sigh of relief after the shoot because we knew it was going to require more effort to do it safely and accurately in the way we wanted to portray the script."
Midshipman 1st class Catie Hawkes also worked on a spot this week with a group of Marines. Serving as the Brigade Public Affairs Officer has not been easy this semester.
This week, she keeps thinking about how she should be at the annual Warrior Cup — the annual Army-Navy taekwondo competition — which was canceled. Losing it made her appreciate the things that she did have, like just getting to be together with her teammates for practices at all.
"It's definitely been a little bit harder because of COVID. It makes things tough for us here," Hawkes said. "But we're hoping to try to put out some good spirit spots and get some motivation going for the brigade to go up to West Point and beat Army this year."Katherine FominykhCONTACT
---
Katherine Fominykh covers high school and college sports. She also has worked as a sports reporting intern for The Baltimore Sun and The Boston Globe. She graduated from Emerson College in the most intense sports city in America, Boston, with a Bachelor's in journalism in 2018.