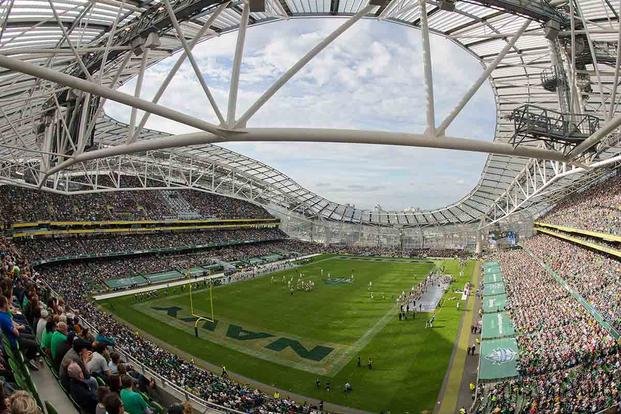 28 Aug 2023
Military.com | By Blake Stilwell
Look, I'm not judging anyone here, but there's a reason the big teams play a smaller team on Week 1, and it's not to help the smaller school get TV ratings. Does anyone actually think the Tennessee-Martin Skyhawks are going to beat Georgia on Sept. 2?
The Navy Midshipmen opened their 2023-2024 season against the Fighting Irish in Dublin over the weekend. Things did not look great for the Mids, but there are reasons to be hopeful — and there's a lot of time before the Army-Navy Game in Foxborough, Massachusetts, in December.
Before the end of the first half, Navy was already down by 28 points. The Mids didn't score until the fourth quarter, when Navy kicker Evan Warren hit a 31-yard field goal with just 3:33 left in the game. Quarterback Tai Lavatai gathered only 43 passing yards. Meanwhile, people had already begun comparing Notre Dame's Sam Hartman to another famous Notre Dame QB: Joe Montana.
Don't lose heart. There were a lot of reasons for this.
After three straight losing seasons and a heartbreaking overtime loss to Army in 2022, Navy did not re-sign 15-year veteran coach Ken Niumatalolo. Defensive coordinator Brian Newberry was elevated to head coach, and this was his first game leading the team. He's still running the option offense Navy is known for, but with a lot more plays in the playbook.
Former Kennesaw State offensive coordinator Grant Chesnut is expected to add a lot more passing into the mix, despite Navy only making seven attempts in Dublin. The Mids' running game is also expected to have more looks as the team congeals over the season. We can even expect more shotgun formations!
The game was also a first for Lavatai, who returned for the first time from the season-ending knee injury he suffered against Temple in 2022. He even missed spring training, so it's not surprising he didn't have the breakout game Navy fans expected. Lavatai is still considered to be a candidate for Comeback Player of the Year. Even if he doesn't, Navy sophomore Blake Horvath is a dangerous option runner.
Navy still has all the elements it needs to gain yards on the ground. Its receivers are ready to make crucial blocks, its offensive line is solid and while it may not have explosive backs, the combination of good blocking and good running will give Navy a good offensive season. On defense, the Mids have solid football veterans in the secondary, and every opponent will have to adjust their plans for defensive end Jacob Busic's pass rush.
Most importantly, the Irish are good. Really good. Hartman is a transfer to Notre Dame, coming from Wake Forest, where he became the Atlantic Coast Conference's all-time leader in touchdown passes. Former head coach Brian Kelly led the Irish to five straight winning seasons before departing, and current coach Marcus Freeman tacked on one more. They're gonna win a lot more — but so will Navy.
Navy's next game has Wagner College visiting Annapolis on Sept. 9, 2023. The Army Black Knights and Air Force Falcons open their seasons on Sept. 2. Army visits Colorado Springs for the Army-Air Force game on Nov. 4 while Air Force plays Navy on the road on Oct. 21. The Army-Navy Game is on Dec. 9, 2023, at Gillette Stadium in Foxborough, Massachusetts.