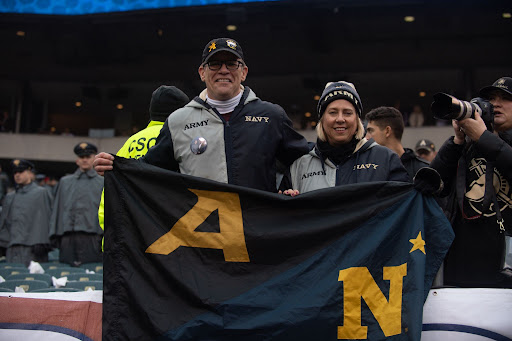 Are you ready for some Navy football? It's time to (finally) get back to the gridiron! There's no better way to show your Navy spirit than with Navy gear and the tailgating supplies you need for a pre-game party that shouts "Go Navy Beat Army!" Not only that, 100% of the proceeds from your spirit wear and tailgating supplies support the Brigade of Midshipmen.
That's the Spirit!
You can make the 'gate look great with a USNA tablecloth that sets the tone for the day in striking Navy and gold. It's the perfect backdrop to set down your drinks, set up your buffet and start the party!
If you're expecting a rowdy crowd, keep their Navy spirit flying high and their drinks cool or hot, depending on the needs of the day, with tumblers and stadium cups. Try our Navy granite stemless wine glass, or use a special N* Moscow Mule mug to really cool things down. Let your crowd enjoy Navy-themed wine glasses, pilsner and pub glasses, as well as a silicone straw set to partake in the tailgate. When it's time to head to the game, an anchor wine stopper can put a lid on the party until next time.
Time for Some Big Fun and Games
Whether you kick off your tailgate at the crack of dawn or the crack of dusk, there are some important must-haves to bring. Every respectable tailgate needs portable chairs, and lots of them. You'll need your own and you'll need to have several at the ready when friends swing by. Here's a fun youth chair sporting Bill the Goat for the younger fans in your set.
Once you've got the food grilling and the drinks flowing, you can toss some Navy lawn dice around. With Bill the Goat emblazoned on each one, luck is sure to be on your side. Try your luck with the gameday tumble tower, another oversized game that gets your crowd engaged and ready to cheer on gameday. Then roll out the USNA giant checkers for the kids, also enlarged to ridiculous proportions for some outsized tailgate fun.
Suit Up for Naval Academy Football!
It's time to get your tailgating spirit gear, USNA! One of the best ways to show your Navy spirit at a tailgate is to wear it for all to see. With a variety of really cool USNA jerseys, you won't lack for options.
You also have your choice of football sweatshirts for those chilly fall mornings. This tough-looking sweatshirt will see you through the tailgate to the afterparty once Navy brings home the win. Pick up this classic youth Navy football t-shirt for your kids; with the way they grow, you may need to get one every year!
We are thrilled to be welcoming football season back. With six exciting games lined up at home, you can make it a season to remember, even if you're tailgating away from the action. Show your Navy athletics pride wherever you go. And bring home the Navy win every time with Navyonline, where your purchase and your Navy pride support the brigade!
Topics: Merchandise

Written by Bill the Goat